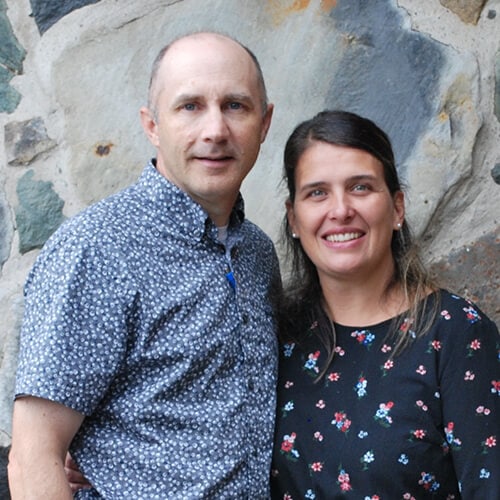 Biography of Martin and Yannick Jalbert
Martin is a native of the Quebec City area and his wife Yannick is a native of Saguenay.  They understood and accepted the Gospel of Jesus Christ in the 1980's and quickly became involved in camps and also with the youth in their respective local churches.  They are both teachers by trade and moved to Sherbrooke in 1996 to serve with Parole de Vie where they have held several roles over the years.  They have been married since May 1995 and have three grown sons (Nathan, Antoine and William).
Biographie de Martin et Yannick Jalbert
Martin est natif de la région de Québec et son épouse Yannick est native du Saguenay.  Ils ont compris et accepté l'Évangile de Jésus Christ dans les années 80.  Ils se sont rapidement impliqués dans les camps et aussi auprès de la jeunesse dans leur église locale respective.  Ils sont tous les deux enseignants de profession et, suite à l'appel du Seigneur, ils ont déménagé à Sherbrooke en 1996 pour servir avec Parole de Vie où ils ont occupé plusieurs rôles au fils des ans.  Ils sont mariés depuis mai 1995 et ils ont trois fils maintenant adulte (Nathan, Antoine et William). 
To contribute via cheque, please write the cheques in the name of:
"Word of Life Canada"
In the memo section designate:
Martin Jalbert
Mail to:
Word of Life Canada
617796 Grey Road 18
Owen Sound, ON N4K 5W4